Cooperation Offer for Travel Agencies
HOTEL Apeyron ***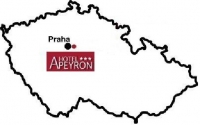 Hotel *** The hotel's location on the eastern outskirts of Prague,

5 km from the D11 highway, and, in essence, in the middle of the Czech Republic, offers nearby access to top tourist attractions in Bohemia – Downtown Prague (25 km), Kutná Hora (30 km), Konopiště Castle (45 km), Český Šternberk Castle (50 km), Karlštejn Castle (60 km), Český ráj (70 km), etc.

Price list for groups

The Apeyron Hotel has a capacity of 120 beds in 1-, 2-, and 3-bedrooms. Each room is equipped with private bathroom (shower, toilet, sink),TV and free Wi-Fi. We specialize in services for tourist groups. You can use the elevator to get to your floor.

Accommodation with breakfast ………………. 19 € / 1 person
Dinner (soup, main dish, soft drink) …………… 5 € / 1 person

Group discount includes one FREE guest for every 21 purchased!

For groups we offer:

Dancing with live music ………. 300 € / for group
Disco with a light show ……….. 250 € / for group

Barbecue prepared on a large rotating grill right in front of our guests:

Whole piglet + 0,5 l Pilsner Urquell 12° ………….­………….. 9 € / person per group
Smoked ham + 0,5 l Pilsner Urquell 12° ………….­………….. 8 € / person per group
Pork with bacon + 0,5 l Pilsner Urquell 12° ………….­……… 7 € / person per group


Guests can enjoy a restaurant, banquet hall, night club, casino (slot machines), games room (billiards, darts).


Monuments in our neighbourhood
Restaurant
The hotel restaurant has the capacity big enough to provide the catering of the fully occupied hotel. The restaurant interior has a modern look. In our menu you can find a varied offer of dishes. Those include not only a lot of typical Czech dishes ,but also many world specialties prepared for real gourmets. Not to forget, grilled dishes are also ready to satisfy your taste. One of the greatest attractions and specialties of our chef is the roast-on-the-spit piglet with a special marinade á la Charles IV. Our restaurant can also be used for anniversaries, corporate parties and wedding receptions.
Conference Hall
The hotel complex includes the conference hall with a capacity up to 90 persons and it offers conference and lecture facilities, sound and projection technology with FULL HD picture, and a dance floor. The hall includes a bar with a large rotating grill. Grilling is possible during the events or celebrations. We grill a lot of different specialties of your own choice – piglet, lamb, pork leg, pork knuckles, chicken, seafood, and more.
Night bar
Facilities and bar equipment is used for night entertainment and refreshments of our guests. The bar has billiard tables, darts, table football, table hockey, flippers and lots of other entertainment device.
Opening Hours: Mon-Sun 5:00 p.m. – 5.00 a.m.

Sports Complex
The possibility of using a large sports complex with an indoor hall next to the hotel:
Indoor soccer, Basketball, Football, Tennis, Volleyball, Badminton, Table tennis, Athletics
In case of interest we'll arrange a match with the Czech athletes.
Hotel Apeyron***
Kollárova 1278, Český Brod u Prahy
GPS: 50°4'29.647″N, 14°51'28.943″E
Phone +420 601 336 911
E-mail: info@hotelapeyron.cz